Brazoria Roofer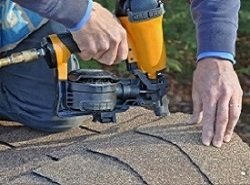 At Brazosport Roofing, we're dedicated to being a top-notch roofer for our customers in the Brazoria, Texas, area. We understand that your roof is an essential part of your home or business, and it's important to ensure that it's in good condition. Our team of experienced roofing professionals has the knowledge and expertise to handle all your roofing needs, from repairs and maintenance to new installations.
High-Quality Roof Installations and Replacements
If you're looking for a reliable and trustworthy roofer in Brazoria, look no further than Brazosport Roofing. We're committed to delivering exceptional service and quality workmanship that exceeds your expectations. Our goal is to ensure that your roof is in top shape and able to protect your property from the elements for years to come.
Professional Roof Repairs and Maintenance
Whether you need a simple repair or a complete roof replacement, we're here to help. Our team uses only the highest quality materials and the latest techniques to ensure that your roofing project is completed to the highest standards. We'll work with you to understand your needs and provide customized solutions that fit your budget.
Competitive Pricing and Transparent Communication
At Brazosport Roofing, we believe in delivering value to our customers. That's why we offer competitive pricing and transparent communication throughout the entire process. You can trust us to provide honest and reliable advice that helps you make informed decisions about your roofing needs.
GAF Certified Roofer in Brazoria, TX
Brazosport Roofing is a GAF-certified roofing contractor, which means we've met rigorous standards for quality and expertise. This certification ensures that our team is highly skilled and trained to provide top-notch roofing services to our customers. Additionally, as a GAF-certified contractor, we can offer our customers industry-leading warranties, providing peace of mind that their investment is protected. Choosing a GAF-certified contractor like Brazosport Roofing means you're working with a reputable, reliable contractor committed to delivering exceptional service and quality workmanship.
Call a Top-Rated Brazoria Roofer Today!
Don't let a damaged or outdated roof compromise the safety and integrity of your home or business in Brazoria, Texas. Contact Brazosport Roofing today at (979) 297-9600 to schedule a consultation with one of our roofing experts. We look forward to helping you protect your property and ensure your peace of mind.
See Some of Our Other Services: