We offer a new service! Softwash Roof Cleaning
Not quite ready for a new roof? Selling your home and need some curb appeal? Our low-pressure soft wash system is the answer to remove years of unsightly mold and algae discoloration! Our system is recommended from the Asphalt Roofing Manufacturers Association and we use a safe non-high-pressure method to restore your roof to like-new condition! So if not needed, dont replace it when for a fraction of the cost of a new roof you can restore it to like-new condition!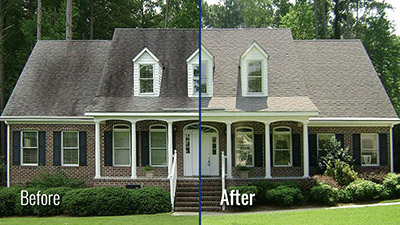 Your roof and siding are among the largest installations in your home, as well as being two of the most delicate -- at least when it comes to a pressure washer, they are.
This can be a problem when your roof and siding become dirty. They are a large aspect of your home, and also among the first things people notice, but you can't quickly clean away the mess with a pressure washing . . . Unless you want broken siding and damaged shingles, that is. A more efficient approach is to get a soft washing!
LOWER PRESSURE MEANS MORE SAFETY
When it comes to washing your home's delicate components, soft washing is the best choice. Soft washing uses far less pressure less water than a pressure washing does, this means it won't damage your home's siding or roofing and will still providing quality cleaning.
HIGH-QUALITY SOLUTIONS LEAD TO EXCELLENT CLEANING
Though soft washing uses less pressure than a pressure washing does, it will still provide a comparable clean. This quality cleaning is thanks to the powerful cleaning solution used with soft washing. The solution easily cuts through all manners of dirt buildup, making sure your roof and siding look great without causing them any damage.
GET QUALITY WORK FROM EXPERIENCED SOFT WASHING PROFESSIONALS
If you need soft washing to get your roof or siding clean and looking great, call Brazosport Roofing. With our experience, resources, and dedication to quality, we'll provide the best soft washing for a price no other pressure washing company can beat!
If you are looking for Brazosport Roofing then please call (979) 297-9600 or complete our
online request form
.